News & Blog
News stories from the Chamber and related news are listed in the table below
Scottish mortgage firm pledge support for Armed Forces Community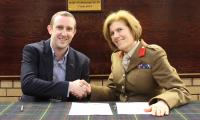 Mortgage Advice Bureau in Scotland has signed the Armed Forces Covenant pledging support to the Armed Forces Community.
Through confirming their commitment as an Armed Forces friendly organisation, Mortgage Advice Bureau in Scotland recognise the value Serving Personnel, both Regular and Reservists, Veterans and military families contribute to their country and their business.
Signing the Covenant in Edinburgh on behalf of The Secretary of State for Defence with Dominic Taddei of Mortgage Advice Bureau was, Colonel Stephanie Jackman, Deputy Commander (Reserves) of 51st Infantry Brigade.
Taddei says; "We believe this is a fantastic opportunity, not only for our business but all businesses. The sacrifice and commitment of military personnel and their families is truly incredible and it's an honour to be able to support them through the Covenant."
As our business is set to increase staff numbers to over 100 in the next three years, a key part of the recruitment strategy is to establish a tailored employment pathway for Service Leavers, spouses and partners and offering a degree of flexibility in granting leave for Service spouses and partners before, during and after deployment."
Taddei continues; "We are also delighted to offer a broker fee free mortgage to all members of the Armed Forces Community."
The Covenant was signed on behalf of The Secretary of State for Defence by Colonel Stephanie Jackman, Deputy Commander (Reserves) of 51st Infantry Brigade. Following the signing she commented; "It is marvelous to welcome Mortgage Advice Bureau into the expanding number of employers from the financial sector in Scotland."