News & Blog
News stories from the Chamber and related news are listed in the table below
Is your current broadband provision holding your business back?
What else could you achieve if it wasn't so slow?
You do have another option… Lothian Broadband is enabling Businesses in East and Midlothian to maximise their potential.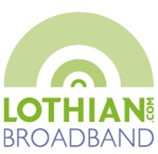 Lothian Broadband don't use old copper cables and as a result they can offer broadband speeds that are usually only found in the city. With their network of masts around East and Midlothian they can provide superfast broadband to remote rural homes and businesses wirelessly or via a bespoke Pure Fibre connection.
Unlike the big companies, your local broadband supplier can create bespoke business packages to meet your business' needs. If you have an office full of data hungry graphic designers or a cow-shed that would benefit from webcams, there is a solution. Are you organising an event? Do you need a pop-up broadband connection in a field for a party? Lothian Broadband's flexible approach can help.
Business Customer Quotes:
We have used Lothian Broadband for over 2 years to give us a superfast broadband service. Having previously been on a standard dedicated business service through another supplier, we calculated that switching to Lothian Broadband gave us an additional 30 minutes of productive time per day. A significant increase for a data hungry e-commerce business that totally depends on reliable, high quality broadband. We certainly get that from Lothian Broadband, along with great customer service, all of which means we can continue to operate in rural East Lothian. Anthony Stodart, Managing Director, Ardmoor Limited
Since joining Lothian Broadband early in 2017 we have been delighted with the internet download speeds and their customer service. A reliable and fast internet connection is vital for our business and having previously tried both the standard copper cable and the expensive satellite options, we know we've now made the right choice. The ability to use the service for our phone line has been an added bonus and has also enabled us to save money by cancelling our monthly landline contract!. Simon Poole, MD, Jerba Campervans
If you would like to find out how Lothian Broadband could help your business, please call 01620 698001, email info@lothianbroadband.com or visit www.lothianbroadband.com.