Trade Tuesday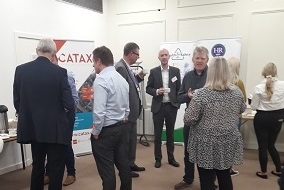 Come along and join us for a free, informal gathering at Midlothian Innovation Centre (MIC). At our Trade Tuesday event, we aim to help you connect, communicate and potentially collaborate with businesses at MIC and beyond. You might also find useful help and support available for your business.
There will be no seating plan and no formal introductions / speakers, but just coffee and chat with some like-minded people. We'll be there from 8.30am – 10.30am and whether you have the whole 2 hours to spare, or just 15 mins on your morning break, you're very welcome. The more the merrier!
Attendees are local business people who understand the importance of great recommendations from people. Word of mouth is very powerful and we love to refer people to other local businesses that we know and trust.
Remember to bring plenty business cards and any PR materials that you want people to be able to take away.
Event details
Event Title
Trade Tuesday
Event Date
20th November 2018
Event Time
08:30 - 10:30
Event Location
Midlothian Innovation Centre, Pentlandfield, Roslin
Event Postcode
EH25 9RE
Event Price
£0.00 ex VAT (members) and £0.00 ex VAT (non-members)


* equates to £0.00 inc. VAT* (members) / £0.00 inc. VAT* (non-members)